2023 Cornhole Registration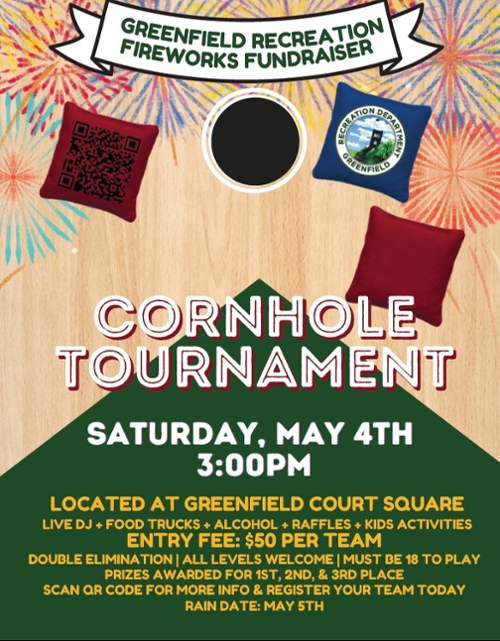 Returning for the second year! Come and support the Greenfield Rec and the awesome Fireworks display put on every year for the 4th of July!
The event is being held on Saturday May 6, 2023* at the Greenfield Court Square and will include food trucks, a live DJ, adult beverages, activities for kids as well! We put the FUN in FUNdraising!
- $50 per team, pay via PayPal below or bring cash/check made out to "Greenfield Recreation" memo fireworks
(Get creative and get a sponsor for your team!)
- Registration is per team only, no individuals
Tournament details
- All skill levels are welcome
- First team to 21 points wins
- Double elimination (teams will play at least 2 games min)
- Court/lane length in distance will be set to casual style game play, no personal bags please
- Prizes for first, second and third place teams
- 2:30 pm Check in
Sponsors/Donations
Have your company/business name displayed on a lane scoreboard and announced throughout the tournament!
Click here to sponsor or contact Danica Hochstetler, for more information on sponsoring one of our 10 lanes!
All donations welcome!